Reason 3.0 Knockin Kick?

Fruityloops Studio Producers Edition has been my weapon of choice for about 4 or 5 yrs. I recently upgraded equipment. I'm not quite into the hardware yet. So far the quality is there, but I am not as quick on hardware as I am software. Today's tutorial is inspired by
Warbeats.com How To Beef Up Your Kicks In Fl Studio
You'll have to sign up to NFX's site to view this great video.
Always striving for a better mix during the actual production process, this tutorial has me tweaking in all my production software. The technique he gives works great all the way around. I found a way to achieve this in Reason 3.0 while at a friends studio. If you need beginners help starting and creating projects in Reason. Please refer to the Help file located in the top right portion of your Reason software menu.

Step 1 Insert Redrum Connect To Mixer 2

Add two mixers. Click on "Mixer2" and Create a "ReDrum Drum Computer" . Push Tab to see rear connections as shown in picture above. We will proceed by connecting each Redrum channel L/R audio output to corresponding Mixer 2 channel audio Inputs.
Step 2: Routing Redrum Output Channels to Mixer2 Input Channels

You will notice the ReDrum Stereo Outputs are automatically connected to "Mixer 2 Channel 1 Left and Right Input." So, on our ReDrum we'll start with channel 2.
Starting at the second channel on the Redrum. Hold your mouse directly over "Left Audio Output" and right click. The drop down menu will appear. Choose "Mixer2", then "Channel 2 Left". This should connect the "ReDrum, Channel 2 Left and Right Audio Output" to "Mixer 2, Channel 2 Left and Right Audio Input".( If only the Left output(top circle) from the Redrum connects to Left input(top circle) on mixer..Hold the mouse over the right output(bottom circle) and manually connect to Mixer 2 ,channel 2 right input(bottom circle). << hope you understood that 🙂
Now ReDrum Channel2 Left and Right Audio Outputs should be routed to Mixer2, channel 2 Left and Right Audio inputs.
Repeat the above procedure until you have connected all Redrum Channels to the corresponding input channels on Mixer 2. ie. Redrum Channel3 L/R Audio Output to Mixer2 Channel 3 L/R Audio input.
Your connections should look like this: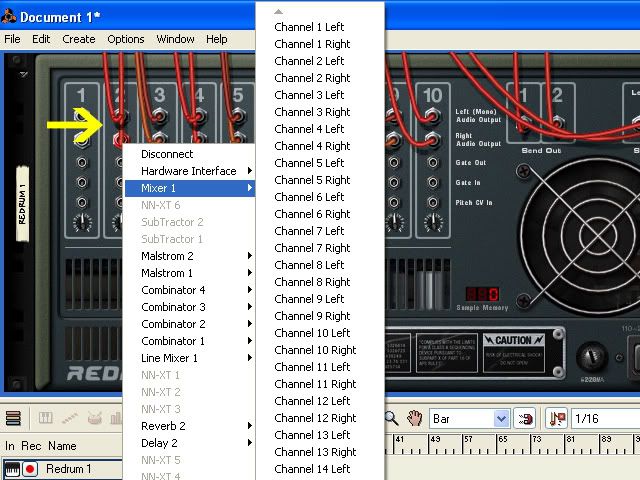 Step 3: Add MClass Compressor, MClass Maximizer,and MClass EQ To Mixer 2

Push Tab to return to Front panel screen.
Highlight Mixer2 and create "MClass Compressor". Highlight Mixer2 again and create " MClass Maximizer", Highlight Mixer 2 again and create Mclass Eq Shown above
Step4: Ms. Tris's 11 Steps For Tweaking Parameters

NOW THE FUN BEGINS 🙂
Here is where I do main adjustments to my kick. It has made a tremendous difference in my beats coming straight from Reason. This may seem like a lot of work at first. Once you learn this technique, it will become easier.
1. Add a kick of your choice. I am using Reason Factory Sound "BD_Congas.wav"
2.-5. Trigger the kick from midi controller and check the volume meters.
2= Mixer 2 Channel2 "kick" Insert
3= Mixer 2 Master Volume
4= Mixer 1 Master Volume
5= Audio Out Clipping Meter
All of the levels above should be monitored when working in Reason. None of your levels should ever be in the red. I usually maintain a few notches in the "yellow" level on Reasons volume meters. Kicks are important especially in Hip Hop production. My goal at this stage? Start with a knockin kick and end with a knockin kick. In digital music production it is wise to monitor levels to avoid distortion. I have adjusted master levels on both mixers to 80, next I adjust the level on my kick so there is no clipping. Always use your ears and eyes when working digitally.
6. I turn on the "eq" function in the "kicks" mixer Channel, and adjust my treble and bass level. The arrow (6) points to my approximate settings that work for kicks. I trigger my kick and listen, again watching my level meters.
7.The kick is beginning to sound better already. Next I turn up the levels of my effects inserts on the Mixer2 Channel 2 "Kick".
8. Here I use NFX's kick technique on the" MClass Eq" Unit. I am learning that knowing frequency ranges of different sounds is important to mixing your music. The frequency range I adjust for most kicks is between 60khz and 250khz. I activate the lo shelf and the param 1. Next, I change the frequency of Param1 between 78 and 95, boost the gain, and change the Q to 9:1. I also adjust the Lo shelf parameters frequency between 60 and 67 khz for this particular kick, and boost the gain. as shown below:

9.-10 I adjust the Mclass Compressor then the Mclass Maximizer.
On the Mclass Compressor: I activate the soft knee, and adapt release. I adjust the attack between 5and 8 ,Threshold between 9 and 12, and adjust ratio between 1:30 and 4:1.
On The MClass Maximizer I activate the Limiter, and soft clip. I select auto release and a fast attack.
These are approximate settings that I start with for the kick. This is when I listen for the "knock" factor I am trying to achieve.
I adjust the input and gain on both units, while listening to the kick through monitors….until I find the sweet spot… the kick is knockin!

11. I check all levels mentioned in Step 4:
2= Mixer 2 Channel2 "kick" Insert
3= Mixer 2 Master Volume
4= Mixer 1 Master Volume
5= Audio Out Clipping Meter
I found that this works for almost all my kicks. So I saved this as a default start up .
Wondering how I knew the settings for the effects units? A quick search on each gave me guide lines to start from ,along with NFX's tutorial. Professional Engineers who have studied sound for years have used similar settings on hardware and software for kicks. Find out what eq, compression,and limiting actually does to your sound wave. This is something that works for me in Reason, but in general….I am finding that similar settings work when mixing kicks in my Multitrack Software, and even on the Mpc2500. So if you use Sonar, Logic,Fantoms, etc..try fiddling with the same effects in your preferred software or hardware….
Normally effects should be left to a professional engineer, and usually added after the beat is made. I am fairly new to mixing, so I am learning to get a better mix straight from the software first, then it's easier for me to tweak when I export the files into my multi-track editor. Hope this is a useful tutorial for you..more to come!
😉
Happy Beat Makin!